Male model and artist!
Getting a gorgeous, naked man to come to your hen party and show your hens how to do life drawing... what a great idea! You don't have to know anything about drawing and you don't have to have any experience of life drawing. You just have to be able to enjoy the naked, male body!
As well as being a slim, muscular male model I'm also an artist and tutor and I've been teaching life drawing for many years. I love drawing the nude and will encourage your hens to do the same, to sit back and enjoy the male body. The class won't be a serious art lesson but your hens will learn some basic skills in drawing. They'll be amazed to see their sketches actually improve!
How it works
All we need for the hen party art class is a warm room with enough seating for the hens. I can bring along the art materials, supplied at cost. My sketchpads make lovely souvenirs of the party. We'll draw in pencil and charcoal. Allow at least 2 hours for the class. I find that they work best in the evening when everyone has had a drink and they no longer worry about how good they are at life drawing!
How much does it cost?
I charge £200 for up to 15 hens. Please ask for a price for larger numbers. Biggest class I've done was for 44 hens! The art materials cost £5 per hen and there might be a travel cost depending on where you are. My contact details are above so get in touch now to book the perfect man to bring some excitement and fun to your hen party!
See photos and glowing testimonials below!
Life drawing class for hen parties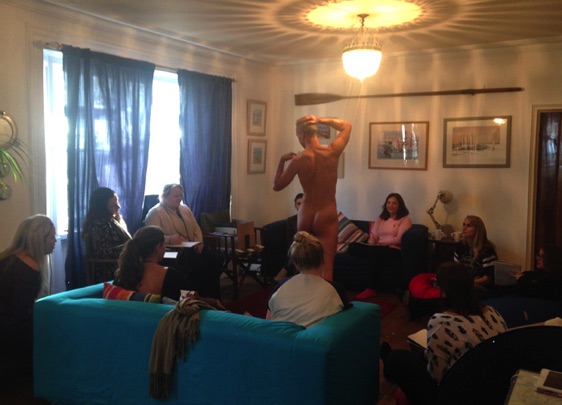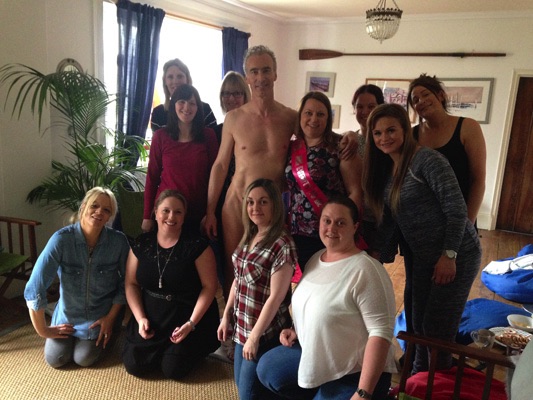 Abigail's hen party - West Lexham, Norfolk June 2015
Claire's hen party - Mundesley, Norfolk November 2016
Joanne's hen party - Mundesley, Norfolk April 2016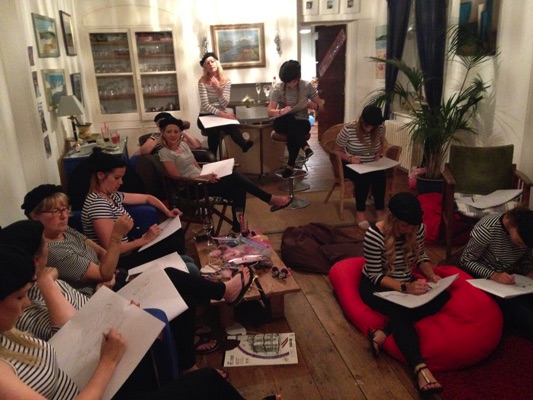 "Thank you again for a great time on Sat everyone had a really good time and my sister really enjoyed herself :) "
Laura T - February 2016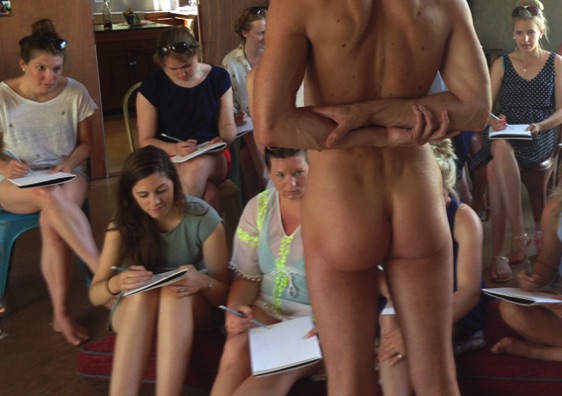 Tanya's hen party - Mundesley, Norfolk September 2016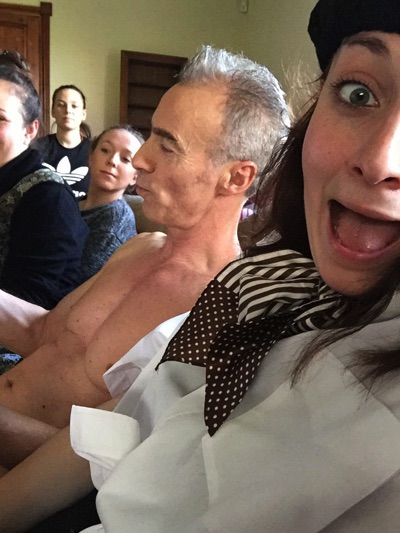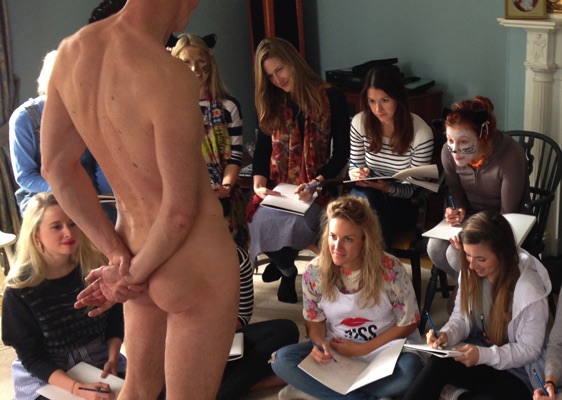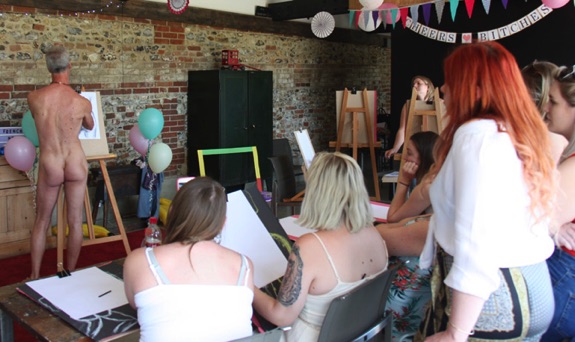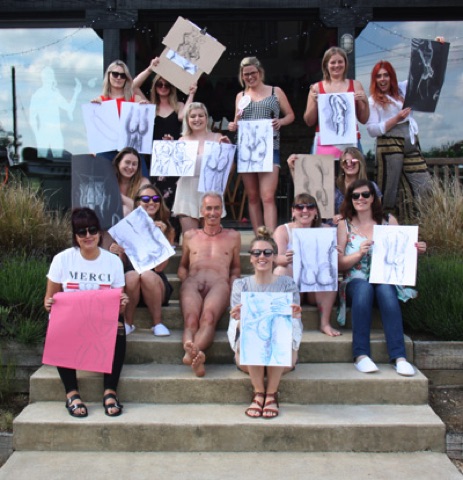 Lorna's hen party - Gayton Thorpe, Norfolk July 2017 - We had such a brilliant weekend! Thank you so much for being such a fun part of it! The girls really enjoyed relaxing and drawing you, brings back old art school memories. I think you set the tone really well!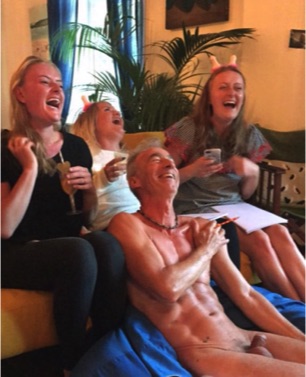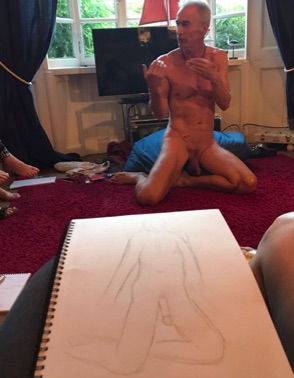 Charlotte's hen party - Mundesley, Norfolk July 2017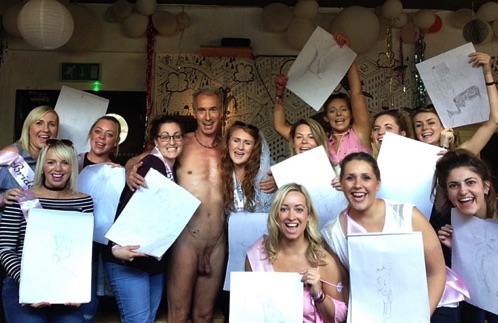 Jenny's hen party - Birdcage Pub, Norwich June 2017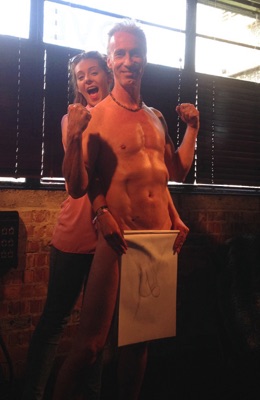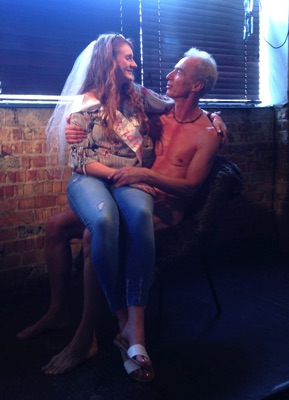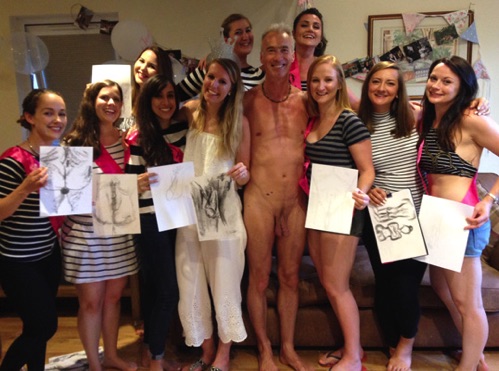 Hanna's hen party - Felbrigg Lodge, Norfolk June 2017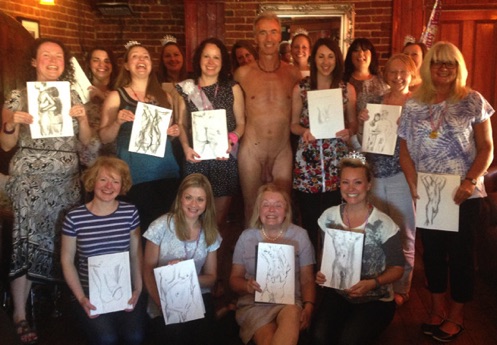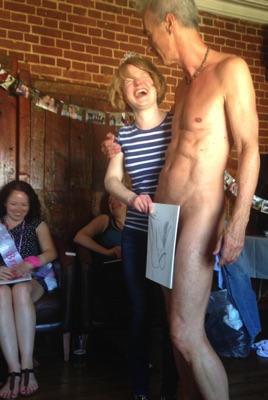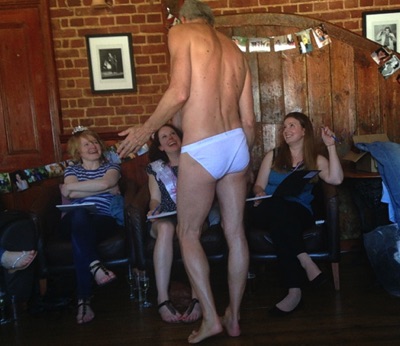 Helena's hen party - York Tavern, Norwich June 2017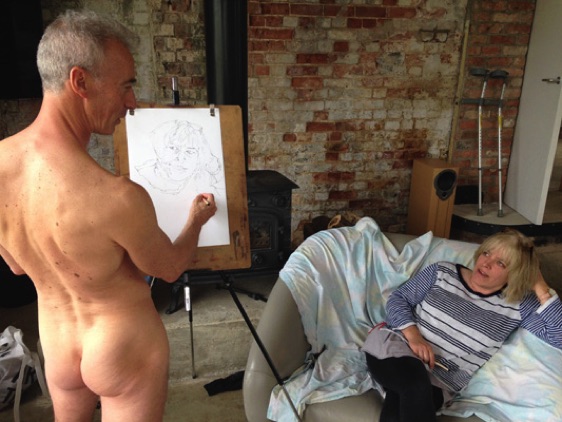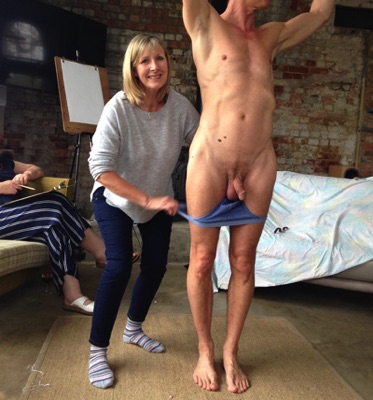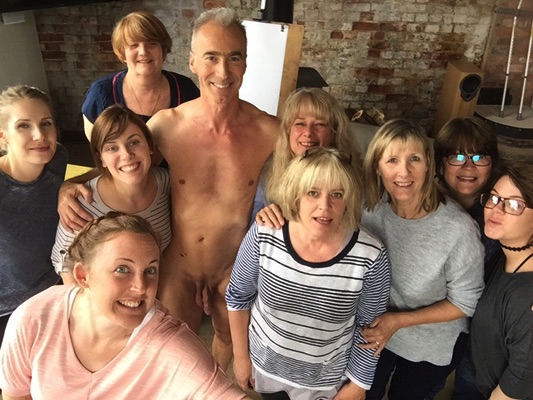 Laura's hen party - Hilgay, Norfolk May 2017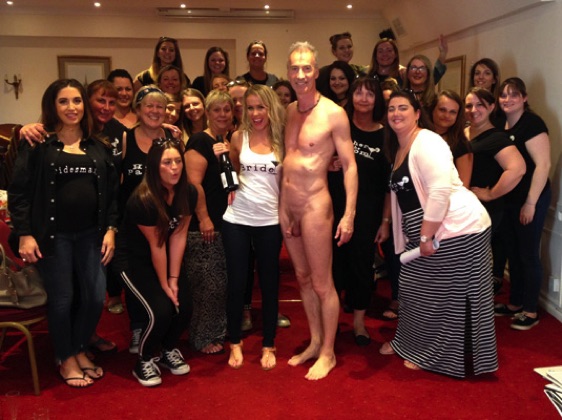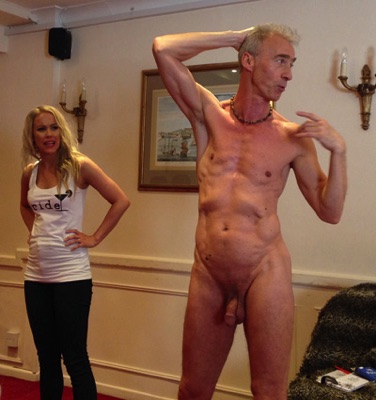 Sarah's hen party - The George, Norwich May 2017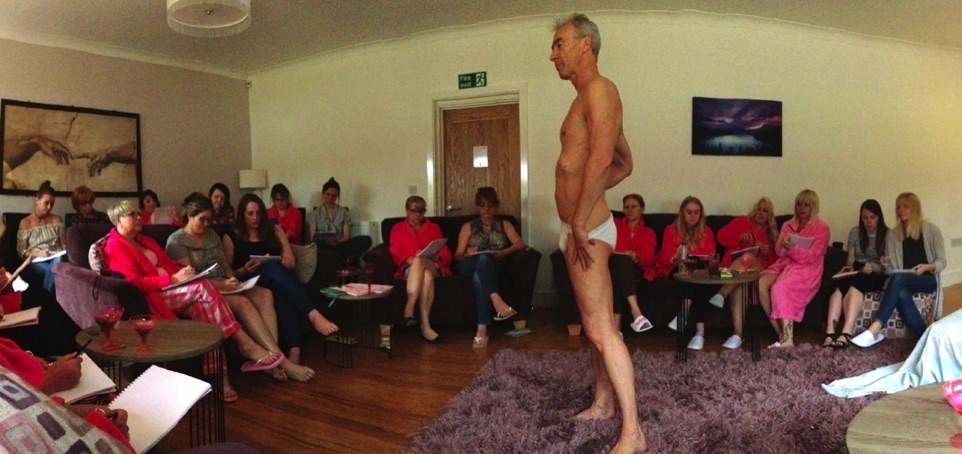 Sam's hen party - Banham, Norfolk April 2017 - Thank you so much for entertaining us. I have had such good feedback from everyone. You were brilliant.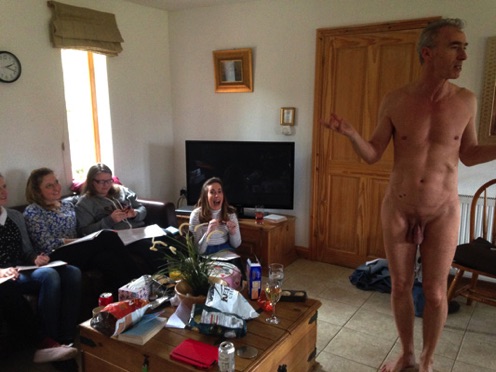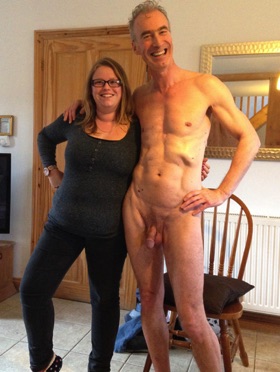 Lucy's hen party - Pentney Lakes, Kings Lynn February 2017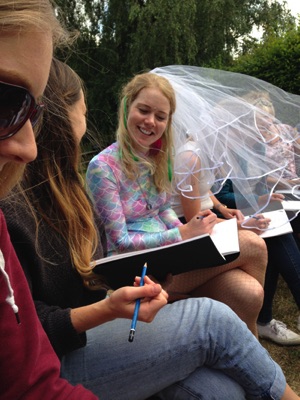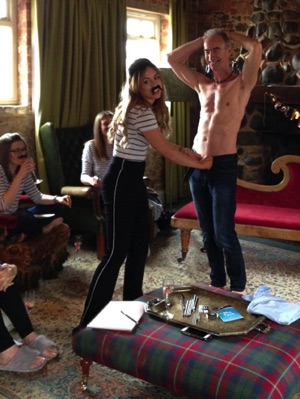 Helen's hen party - Milden Hall, Suffolk June 2018
I just wanted to email to say thanks for coming to our party on Saturday! Everyone had a great time, you judged the group vibe well and put everyone at ease.
Michelle's hen party - Thorpe Abbotts, Norfolk - Oct 2017
The Bride and her Hens had a great time on Saturday thank you. You did so well holding the attention of 20 women. At times it was even silent with the concentration. You taught us all that it's okay to look and enjoy the male form. We even managed some pretty good drawings, all down to your fun teaching. Thank you again we really enjoyed ourselves.
Alice's hen party Mundesley, Norfolk May 2018
I just wanted to repeat a massive thank you for you brilliant session on Saturday evening. You were excellent and declared the highlight of the weekend by the whole group! We will definitely be recommending your services to any hens we know!
Get the perfect naked man for your hen party life drawing class. Artist, tutor and hunky model all rolled into one charming package! Happy to come to your party in Norfolk, Norwich, King's Lynn, Diss and Suffolk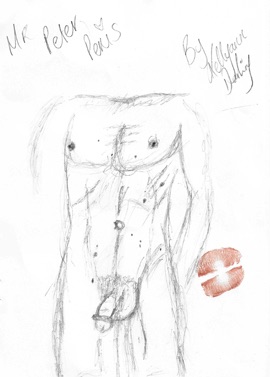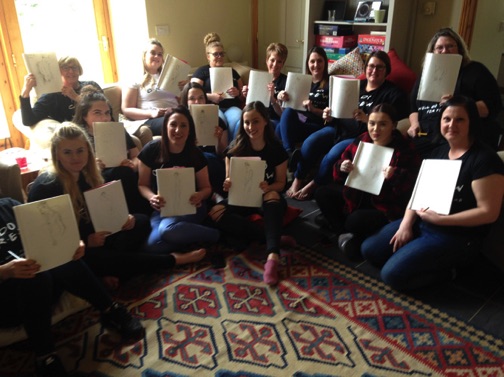 Laura hen party - West Beckham, Norfolk - March 2019
Thank you so much for the best morning! It was amazing fun and we all learnt to draw really quite well!!! You are great! Xx